Well, my little trooper had her baby teeth out yesterday. I was so upset leaving her at the vet yesterday morning at 8:30. Usually I'm good with stuff like this but I think being as it wasn't such a routine procedure I was a bit nervous. So lately when I've taken her into the vet she'll bark or growl at (most of) the techs - never trying to bite when they check her over or anything but she is quite vocal anyway until they pick her up. And then squirming to get back to me when they do. But wouldn't you know it - yesterday morning she was as quiet as a mouse & let me hand her off w/o any squirming to come back to me?? She just sat in Nikki's arms (the tech that also taught my other 3's puppy kindergarten class) looking around as she took her out back. I think it probably made it a bit harder for me since she obviously trusted me to give her to the tech. On the other hand, I was very proud of her as well. Not only because of her behavior that morning but because when I picked her up at 3pm they said she had been a very good, a very sweet & a very QUIET girl while sitting right in the front room watching everyone do their thing. Awwww.....!!!
Saying that, the procedure went very well. The vet said they removed 9 teeth, stitched her up & home she came with orders for softened food for a few days & pain meds for about a week.
She was a bit sleepy yesterday afternoon but last night started chewing - yes CHEWING her toys. She's obviously feeling pretty good! Her muzzle did develop a bit of swelling last night & a bit more so first thing this morning but it has gone down a bit so hopefully it will continue to go down. I think she will be happy to have her regular hard kibble back - she's getting sick of the gooshy stuff already. hehe But she is eating a little bit at each meal so that's good.
Anyway, here is poor Miss Maribelle on the way home from the vet yesterday afternoon...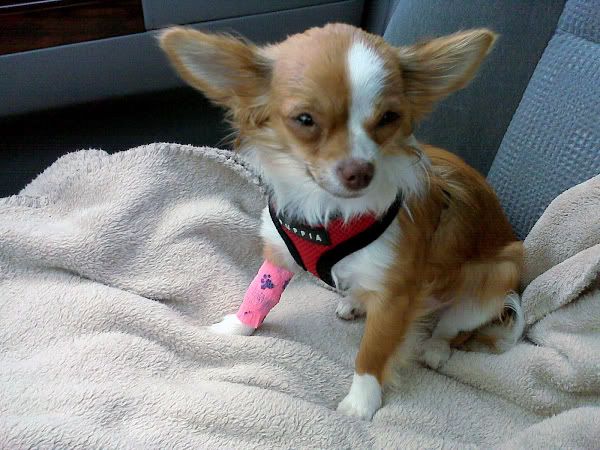 This morning with her little swollen muzzle...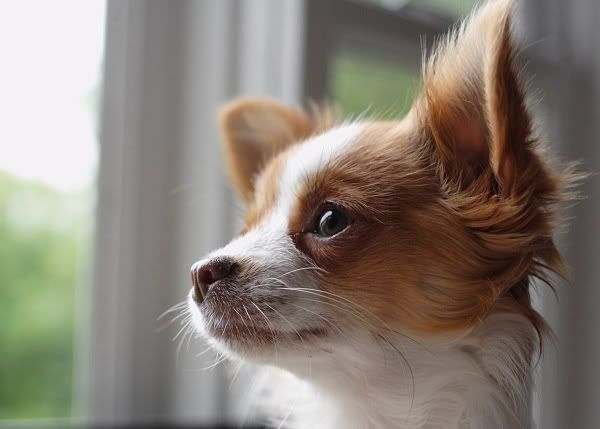 And the teeth they took out...