So I've been trying to be really good about taking the pups out walking every day...or at least every NICE day. I'm getting more brave about taking them down the busier route since Matilda has stopped tripping me trying to run away from traffic. I figure this is the only way I'll get them exposed to not only more traffic but also more people & dogs. It also keeps them thinking & prevents them from getting bored with the same route. Yesterday we managed to walk past a mellow yellow lab who was sun bathing in his driveway w/o incident. Whether my pups are getting better about seeing dog or whether they just didn't see the pup both times we went by I don't know...but I call it an accomplishment either way!
My observation today? Well, I may have said this before but Maribelle is by far my most mellow or at least friendly Chi. She's the only one that has never show any sort of aggression (none of my Chi's I'd call aggressive but the other 3 have displayed fear aggression at one point or another). If this is true than why is she my biggest barker?? I was able to stop & talk to a couple friendly ladies w/o a problem...except for Maribelle who kept barking at them despite my corrections. She continued to bark at another neighbor who was picking up sticks on his lawn. I stopped & made her sit until she was quiet which I think is key... I do have to remind myself that last summer while walking the gang, all my Chi's were noisey & "unruley" in the beginning when they would see someone on their walk, so hopefully it's one of those things that will get better with age..and exposure!
Onto photos...I took each of the pups out for a very mini picture taking session. It was super windy, noisey & not to mention my 2 brat cats were following us around everywhere rolling on the ground (as they do to "tease" the pups) so it was difficult to keep the attention of the Chi's. Milo was a star & didn't get distracted at all, Maribelle I kept on the club house part of the swing set so she was contained, Maxwell I did good to get him to look at me for one picture & even Matilda, who is ALWAYS so happy to keep her eyes on me for a treat, was loosing focus. The smells & sounds of spring are SO enticing!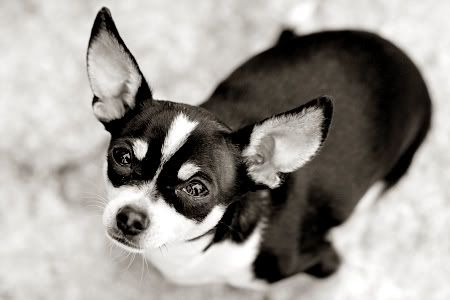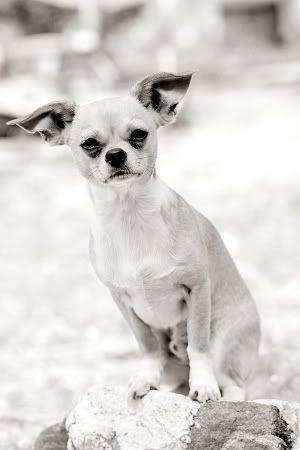 "Whats that smellllllllllll???"