My new mum says that I really should come to introduce myself so here I is! I was a very unexpected Easter "pressie/addition" for the MChi crew & their family. It's a very long story but the short version is MChi's Mary-bell is my littermate/sister!! My new mum almost gots me instead of Mary-bell when we were babies but new mum says it was meant to be that we both ended up here in our forever home together. I miss my other mum but I am very happy she was able to find me a good home with lots of company & people around to keep me busy!
My other mum called me Hyde (Heidi) which my new family thinks is a great name but they didn't want me to be the "odd ball" being the only one with out an "M" name. Since I technically is daddy's girl he got to make the final decision but he is a smart man & picked a name that mum really liked AND put his sissy's middle name for the lastpart of my name! So my new name is Maya Marie. I am already starting to know my new name & come running when new mum calls it.
I am not familiar with children so this new house is taking some getting used to. It was very quiet today when those 2 girls weren't here but when they came home I yelled at them for being in my new house. Mum said that this has been there house for a very long time so I stopped yelling at them. Besides, before I could even think they both took me for a walk which was fun. But when we got home I was very unsure about them & let them know about it. Mum says we have some work to do but she is sure I will "come around" with the girls. Especially since next week they will be here ALL week long on vacation. OH NO!! I hope they is nice girls...if they are maybe I will start to like them. They do give me the tastiest treats after all...
The crazy other Chihuahua's have been very good to me. I had a good first meeting with the other 2 girls Mary-bell & Matilda. We went for a nice walk in the dark when I first got home. When those weird girls brought the boys out it was a mishap & they ended up meeting me head on which they hate. So they barked at me for a minute before mum sent them inside. When they came out again, she took their leashes & walked us together. They were much nicer that time. Then I got to go hand out in daddy's lap & meet all the Chi's one at a time in the office. Today has been a busy day & I am getting to learn all the ropes here. I am testing my boudaries a little bit but mum is making sure to be strict & let me know when I'm being a bit of a diva (like *I* am a diva!!). But she says it will make more peace at the house so I guess I better listen to her!
Here are a couple pictures of me. Don't you all think I is beauty-ful?
My & my sister! I am a little bit taller than she is but she is heavier than me. BOL
This is Marley showboating. He "dances" with me to tell me his is the MAN of the house. I just don't see it!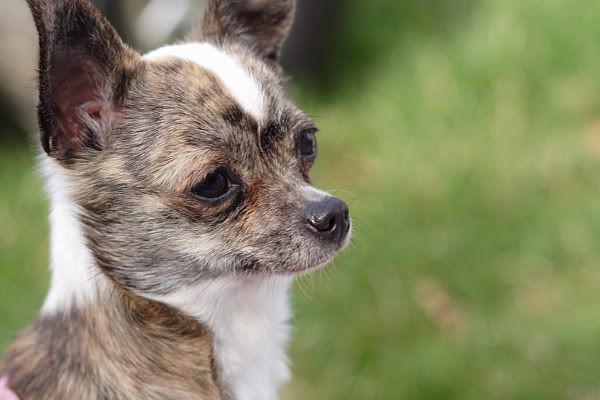 And mum called ME a diva?? Look at that girls face!!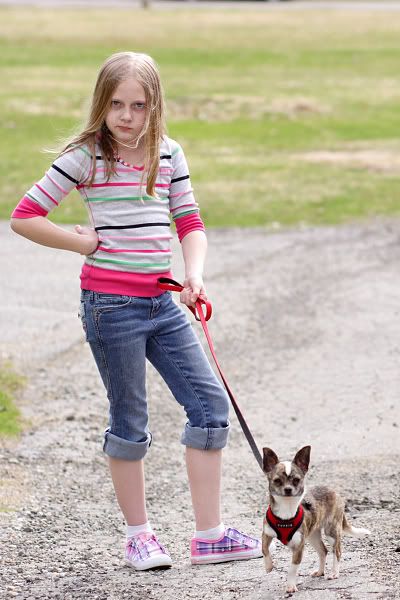 And here is a video of my first outside play time with my new Chi family!