It's been a few days of cold & rain so we was very happy to see the sunshine again today! Mum gave us some chicken necks to munch outside. I had a rough time of that today. I've finally started to chew my bonez a bit better so mum lets me do my things even though I take forebber. Anyway, the last bite I got a little too proud & swallowed a piece too big. It went down...but got stuck. I swallowed & screamed and gagged & screamed. Mum lifted my back legs up which didn't do much but then she gave me a good whack on the back while I was gaggin' & ups that chunk came! Mum is going to rethink the chicken neck thing & see if she can find some bigger pieces of chicken...
Anyway, after we ate she tooks Mary-bell & me for a nice long walk. We got skeered by a big Golden Retriever that came out of nowhere barking at us & then just after that, that same crazy dog that we alway see rans up to us going mental. Mum had basically stopped to meditate before we got to that house so she could try not to spread the nerves to us. It's hard for her because big jumpy dogs makes her jumpy & that makes US jumpy! Anyway, we barked a little bit at that golden dog but the crazy dog that runs around...we dids really good! And coming back...I only barked once & Mari didn't bark at all when he was out there. Mum was very proud of us since we are 2 of the noisiest once of the pack. I have started to get a "hot shot" attitude mum says. I even barked at this lady that came walking towards us. But when she came over to say "hi" I was happy to see her for a second before looking around to see the world. My eyes are very busy mum says...like a space cadet or something.
So after that, rather than going home like usual, she tooks us down to the docks! There was a chocolate lab that greeted us. I think he had a big crush on Mary-bell since she just came out of heat like yesterday. So he acted like he was her bestest friend. Luckily mum saw him before hand & picked her up because she knew he may be a little obsessed. His dad came & took him away though...after I gaved him a piece of my mind anyway. He needed to understand she was MY girlfriend! GEESH!
So we hung out by the water for a little while. I gots to walk in the water & dig for clam shells while mum yacked on the phone. I had fun though! Mum took some pictures of us 2 on our mini adventure. I can't wait to go back down. And mum said she can't wait to take me to little beach? Whatever that is....we will find out soon!
"Lets go for a walk Mare-Mare..."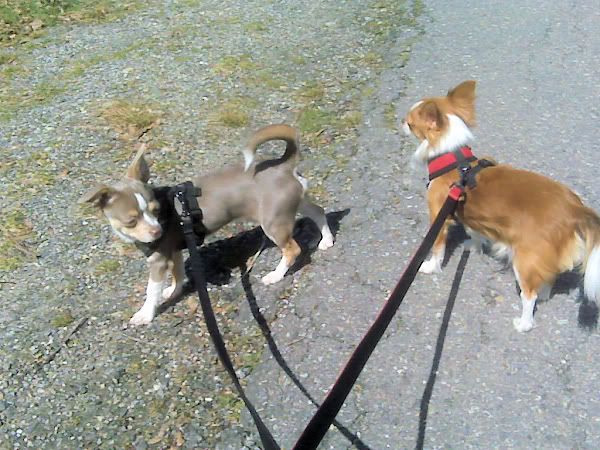 "What is doze hoomaz doing ober dare?"
"My Mare-Mare wookin' so beauty-ful"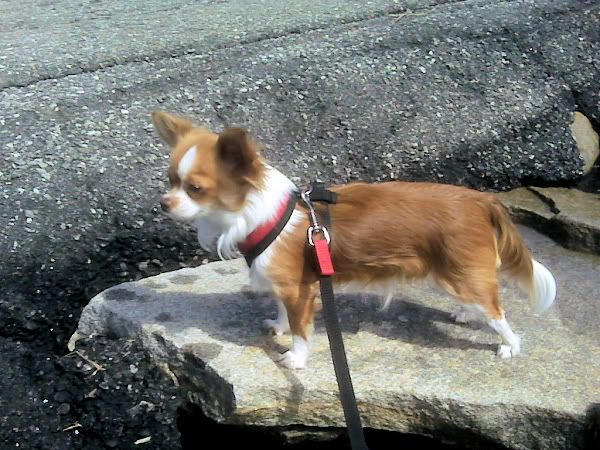 "I FOUND A SHELL!!"
"Dis picture is for my sister Scout. See? I like da water too!!" ;o)