They hardly last at all in our house but alas we still buy them once in a while to give the Chi's something new & interesting to put in their mouths.
Maribelle likes to steal another pups chewy & hoard them all at the top of the stairs. I went to see how many she had & she lowered to the floor & got a big "grin" on her face as to say "crap, I'm caught!". Guilty consciece? Certainly makes me feel bad! LOL
As soon as I take the "extra" chewy away, she comes down with hers & struts her stuff and literally prances around in front of the othe dogs flashing her "prize" to them. The only one to fall for it this time, Marley.
"You are not taking MY chewy Mari!"
"Look but don't touch now"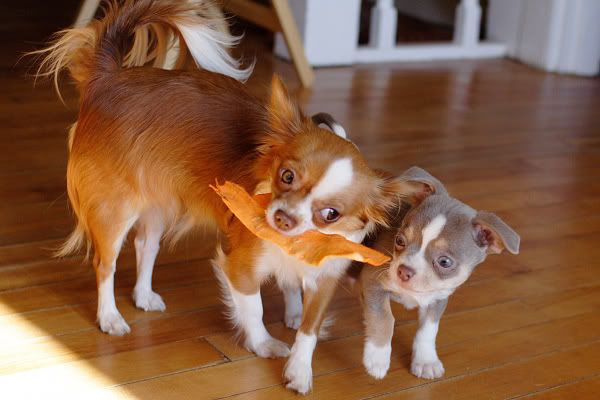 "Okay, maybe just a bite"
"Not mine brother!!"
Matilda immediately took her chewy upstairs on the bed in the comfort of the sun & peace and quiet!