I wondered why mum ran to get my collar & leash today when our Papa pulled in. Mum ran me outside & I heard this awful noise in his truck yapping away. Then before I knew it mum put this black fluffy ball on the ground next to me & we started walking down the driveway. What was she thinking?! At least when we started walking she stopped making that awful noise...
"You want me to WHAT?! I don't sink so...."
"Ok, but this is as close as eyes gonna get."
When we gots back inside I grumbled at her a little bit & she started making that noise again - it hurts da ears I tells ya! Then Mari went in for a sniff...I wondered why nobody else was barking.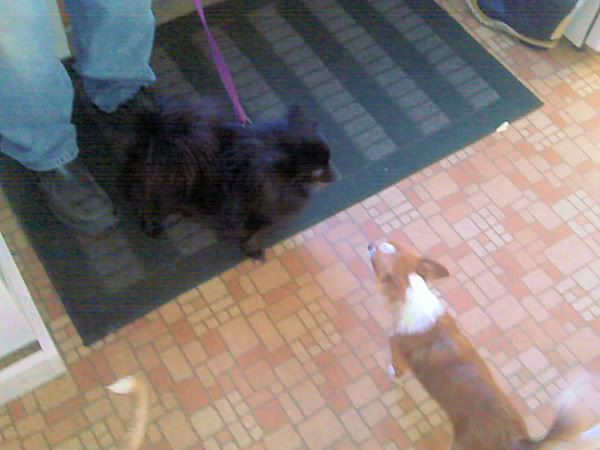 Den mum told me she stayed with her & the other pups lasts year for a few weeks & dey all liked her!!?? And she broke the news...she may be staying here for another few weeks dis spring. Oh NO! Please tell me mum you can control that sing! After that I remembered...my papa is here & I luff him!! We all luff our papa...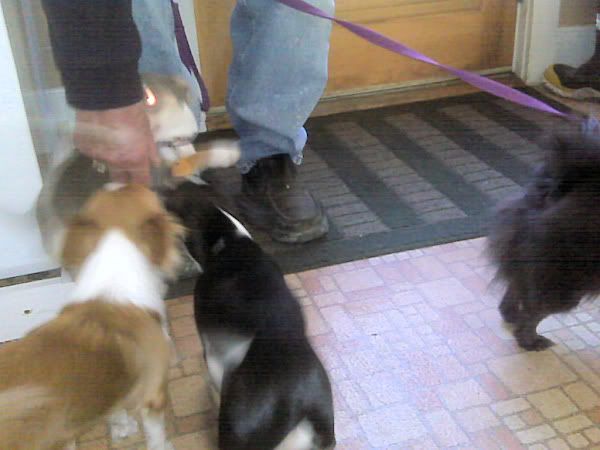 Mum says that it is obvious now that I is scared of other dogs. But the good news is she also sinks that with even just a little more socialization (whateber that means) I will be ok! She said she knows a few peoples that have smaller dogs she wants to "set me up with" on playdates. Dat should be berry fun...NOT.
P.S. Mum wanted to show a better picture of Lacey from last summer since her cellaphone pix stink berry much. She is a Pomeranian...