So it's been another crazy week (and a half). Not only did my mums & hooman sisters finish up with cheerleading...one of those girls gots the tummy bug this past weekend & mum has a sinus infunction. These hoomans say it's been a berry bad season for "bugs" but I haven't seen any crawling around so I don't know what they're talking about.
Anyways, today mum & my skin sisters were talking about hiking in the woods. It was 40 degrees or something & sunny & I thought that sounded like a good idea so I begged & begged my berry best & they finally said I could come. I walked a bit until we hit the snow & then mum said it would be too cold on my tootsies so she stuffed me in that jacket thing of hers. It was pretty warm in there & I had a great time while they went walking in the woods looking at seme prints in the snow. Then when we got back by the house we stayed outside & swung on the swing set...in FEBAWARY!! It was pretty nice & I stayed nice & toasty in mums jacket.
Here are a couple picturegraphs mum tooks with her cellaphone. She looks funny in her bucket hat but she said it was warm so not to tease her too much about it...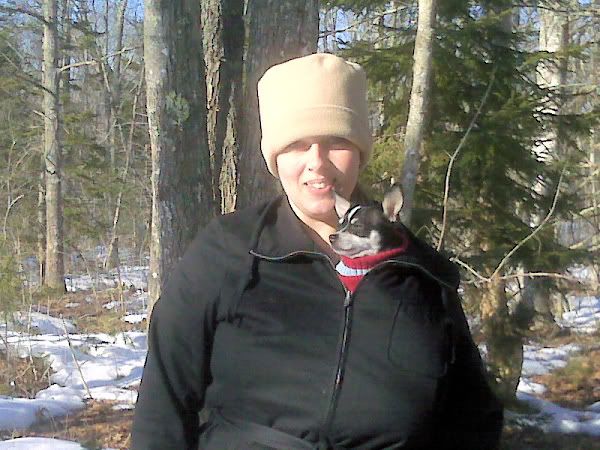 Now here is something I promised from before. Mum did berry well I guess & didn't faint during this competition thing for my oldest hooman sister. They got thirds place but mum said they did VERY well since our school only begins cheerleading in the 6th grade (which is what my sister is in) but the 2 schools that got placed 1st & 2nd starts cheerleading in 1st grade!! Those girls were berry berry good but it made sense when mum learned they'd been cheerleading their whole lives basically. So she was then berry berry proud of these 6-8th grade girls for doing so berry well with their routine. Whats do you all sink??
My sister is announced last in the introductions - she is the little girl on the left middle *looking at the bideo & "going up"* in the first set of stunts & on the left side of the screen *going up in the airs* in the third stunts they do. SEE!! You can see here right down there in the preview on the left way up high in the air WHOA! Anyway, if you would like to see feel free to watch it mum says...