This has actually been a common occurrence lately. We'll notice Milo is nowhere to be found. Usually my pups hang around the living room, sunroom or sometimes will venture upstairs to play (as they are doing right now). When they're upstairs however, you know they are because they're romping around playing. The first few times Milo went missing we frantically went looking for him but now we know what he's up to when he's amongst the missing. If you know Milo this probably won't come as a big surprise....
Again this afternoon I found myself with that question - where did Milo go? I grabbed my camera this time knowing very well where he was. In BED! No matter how neatly I make my bed he finds a way under the covers. Which he knows he's not supposed to be doing. When I see that "lump" under there & call to him or say "get outta bed" he won't budge. Surely he thinks he's invisible. hehe
Anyway, here is Milo in his favorite spot.
"Zzzzzzzzzzzz...."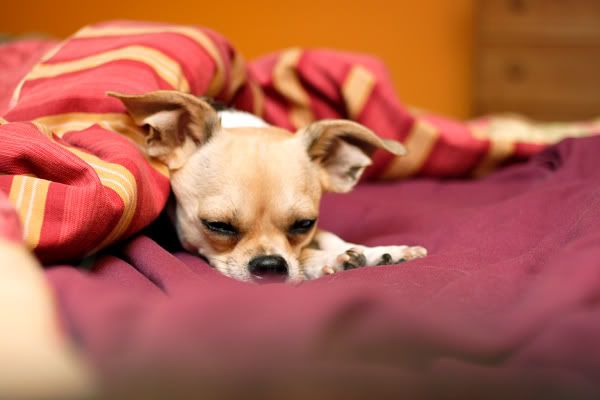 "Oops, I've been caught!"
"Okay okay, I'm moving...."
"Napping makes me so hungry!"